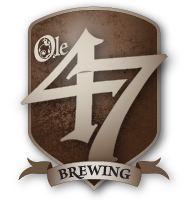 I began homebrewing in 2001 shortly after relocating to Dallas, Texas from Buffalo, New York. Over the years, I've had the pleasure of brewing frequently with a number of fellow homebrewers who shared my enthusiasm and together we explored the many nuances of brewing. Some of these folks have relocated but my passion remains. I have continued taking this from a hobby to a lifestyle and have found plenty of willing testers. Each and every one has encouraged me to take this to the next level.
Ole 47 is dedicated to brewing unique creative ales using old world values with true ingredients rather than extracts and essences. The beers are big, bold, flavorful recipes that are a pleasure to partake. They are meant to be sipped, savored and experienced with rich flavor and aroma that are a treat to the senses. I want you to enjoy the moment and give your taste buds a thrill they won't soon forget.
I make no apologies for not having a light lager or session beer to play it safe. I am not trying to follow the latest trends or brew a mild beer that everyone will enjoy quickly. If you're looking for a refreshing thirst quencher you can guzzle, ask the waitress to bring you a glass of water. It's usually free. I rather suggest you slow down and forget the hectic world around you. Settle in a while for good conversation with a few great friends and take the time to thoroughly enjoy a tasty beverage.

Someday soon I hope to make the dream reality and have these beers available commercially to everyone. Until then, I hope we meet by chance and I can share a glass with you.
Shane Ewald
Ole 47 Brewmaster